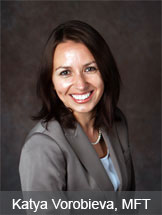 Contact Info
Phone: (650) 619-4695
Email: therapy@kvorobieva.com
1200 Mt. Diablo Blvd, Suite 406
Walnut Creek, CA 94596
Private Pay
Fee for individual and couples counseling is $120 per 50-minute session for private pay clients. For those with limited income, I offer sliding scale fee, based on my availability. Please inquire.

Payments in the form of cash or checks are due at the end of every session. Sorry, I do not accept credit card payments at this time.

At the end of every month I provide billing statements to all of my clients. Some clients choose to submit claims to their insurance companies for reimbursement. Depending on your plan, some insurance companies can reimburse up to 70% of out-of-pocket psychotherapy costs. Please, inquire directly with your insurance company by contacting member services.

Individual psychotherapy is often an eligible Flexible Spending account expense (pre-tax medical expense deductions). Please, confirm with your employer in advance.
Insurance Coverage
I currently accept the following medical insurances that cover psychotherapy services:

Blue Shield of California (PPO plans),
Cigna Behavioral Health
Magellan
Healthy San Francisco (through ACCESS)
Contra Costa County Health Plan
If you have any of the above insurances, it means that your insurance will cover psychotherapy services with me. Depending on your insurance plan, you can be responsible for a co-payment or deductible, which will have to be paid directly to me at the of the session. Please note that behavioral health services coverage can change without notice, so confirm your coverage prior to our initial meeting by contacting your insurance company's member services and giving them my registered name: Ekaterina Vorobieva, MFT.