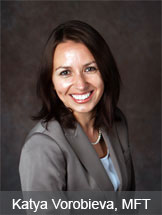 Contact Info
Phone: (650) 619-4695
Email: therapy@kvorobieva.com
1200 Mt. Diablo Blvd, Suite 406
Walnut Creek, CA 94596
How does psychotherapy work?
Sometimes my clients ask me in the beginning: "How is talking about my problems going to help me?". Good question! I often answer that talking is an essential part of psychotherapy but it is not the only part of it. Through talking to a therapist, client gains awareness into his or her motivations, feelings, interpersonal and intrapersonal patterns which, in turn, brings about changes in thinking and behaving. Insightful thinking and behaving is what further addresses the problem.  Effective psychotherapy is collaboration between a therapist and a client who wants to feel better. It is collaboration between therapist's expertise, compassion, ability to provide safe, non-judgmental environment and client's willingness to speak up and provide feedback, to commit to the process and to stay honest with him- or herself.
What happens in the first session?
First session is a chance for therapist and client to see if they are a good match in this work. Therapist typically inquire into the nature of the problem and gather information to roughly identify the problem or problems, set priorities, if necessary, and start a conversation about possible goals for therapy. It is a good time for a client to reflect on the problem (for some it is the first time to admit having a problem to someone outside of him or herself) and ask questions about the symptoms, therapy, resources and so on. If we decide to continue working together, then we will discuss schedule, fees, confidentiality and set up next session.
What are Cognitive-Behavioral Therapy and Psychodynamic Therapy?
Cognitive-behavioral therapy (CBT) is a form of therapy that brings client's awareness to the interaction of feelings, thoughts and behaviors. It is a structured approach that has proven to be effective for specific disorders, especially in anxiety and depression spectrum. It often uses in-session charts and requires clients to complete homework assignments.
Psychodynamic Therapy is a classical approach to psychotherapy that connects events from our past to current difficulties. The foundation to how we see and relate to the world now was laid in our childhoods through interaction of nature and nurture (important people in our lives). Through various circumstances, this foundation can no longer support us later in our lives and the problems arise. Psychodynamic approach brings client's awareness to internal processes, such as powerful subconscious motivations, that contribute to his/ her decision making at this point in life. With awareness come choices that a client is now free to make, standing by his or her decisions.
What is the difference between psychotherapist, psychologist and psychiatrist?
Psychotherapist is a licensed Marriage and Family Therapist (MFT), typically with Master's level of education. Psychotherapists' scope of practice includes providing individual, couples and family psychotherapy. They can also administer limited number of psychological tests. MFTs typically work with children and adults. Some MFTs choose to receive specialized training, for example in biofeedback or hypnotherapy. MFTs do not prescribe psychotropic medications (anti-depressants, anti-anxiety, anti-psychotic.
Psychologist is a licensed mental health practitioner who holds PhD or PsyD degree. In addition to providing psychotherapy in its various forms, psychologists administer psychological testing and provide psychological evaluations to clients ranging in age from children to seniors. Psychologists do not prescribe psychotropic medication.
Psychiatrists are medical doctors who specialize in mental health illnesses. Like professionals above, psychiatrists can provide psychotherapy but not all of them do. Psychiatrists perform psychiatric interviews or evaluations, but do not administer tests, like psychologists. Psychiatrists can prescribe psychotropic medications and are trained to monitor side effects and counteractions with other medications.
Can my physician prescribe psychotropic medications?
Yes, general physicians can prescribe medications for psychological problems and some of them do. Others choose to refer their patients with psychological symptoms to a psychiatrist who provides assessment and prescribes psychotropic medications, if necessary. Ask your doctor if you are not sure if you need to see a psychiatrist.