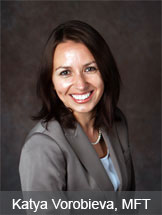 Contact Info
Phone: (650) 619-4695
Email: therapy@kvorobieva.com
1200 Mt. Diablo Blvd, Suite 406
Walnut Creek, CA 94596
Hello and welcome to my private practice website. Here you will find information about services that I offer,  specialties, fees, and a quick guide to resources in the community near you. Like many people who are new to psychotherapy you may have some basic questions about it. In the "commonly asked questions" section I offer some answers that may be helpful in your introduction to the field. Should you have specific questions for me, please do not hesitate to contact me by phone or e-mail. I look forward to hearing from you.
Individuals
I offer indivdual assesment, for treatment of mood disorders, general anxiety and posttraumatic stress disorder.
Couples
I assist partners who are struggling with communication issues, loss of intimacy, divorce and co-parenting.
Families
In family therapy I help parents and their children deal with behavorial issues, blended families and relationship skills.